Year 6G
A huge hello and welcome to Year 6G!
Year 6 is a rollercoaster of a year full of excitement and new challenges, plenty of hard work and memories to last a life time.
We have already got off to a great start and team Year 6G have settled into life in Year 6 beautifully.
We will ensure to keep you updated with all things Y6G both here and on our Class Dojo page (please do connect to our class via Class Dojo if you haven't done so already).
Please find below the key information for the coming year.
P.E.
• The children will be doing P.E. on Tuesdays and Thursdays. Please ensure your child has their P.E. kit in school and that all items are clearly labelled.
• Any deodorant brought into school for use after P.E. or clubs must be roll on only. No aerosols.

Reading Books
At Wesley Methodist we recognise the importance of reading and the significant impact it has on all areas of your child's learning. Our aim is to promote a real love for reading and for all children to leave Wesley as bookworms!

What you need to know:
• In order to become a skilled reader, it is essential children read as regularly as possible.
• We expect all children to read for at least 20 minutes per day at home.
• School reading books and reading records should be returned to school every Monday, Wednesday and Friday for checking. Books will be changed as needed.


Homework
The type and quantity of homework given throughout Year 6 may vary at different times in the year.
Children will be provided with an updated homework timetable each half term, which may include:
• Daily reading (at least 20 mins per day)
• Online learning such as Times Table Rock stars, Bug Club and Spelling Frame
• Paper based consolidation tasks
• Small research projects
• Reflecting over subject knowledge organisers (see below).
Children should take pride in their learning and complete all homework set, on time and to the best of their ability. Written work should be neat and written in pencil, unless otherwise stated.
Snacks
• Children may bring a piece of fruit or veg in to eat at playtime. No other form of snack is permitted.
• The children have been given their own water bottle to keep in class which they can access throughout the day. They will change their water daily and bottles will be regularly cleaned. No other drinks should be brought to school unless specifically requested or included in a packed lunch.
Updates
We intend to keep you as up to date as possible with your child's learning throughout the year. During each half term you can expect to receive:
- A half termly 'Knowledge Organiser' outlining what the children will be learning in the half term.
- A brief fortnightly Year 6 newsletter.
- Weekly updates on Class Dojo.
If you have any questions or messages and are unable to catch me during pick up times please feel free to contact me using Class Dojo or email.
Mrs Gibbs' email - ngibbs@wesleymps.com
Staff
Mrs Gibbs Year 6 Teacher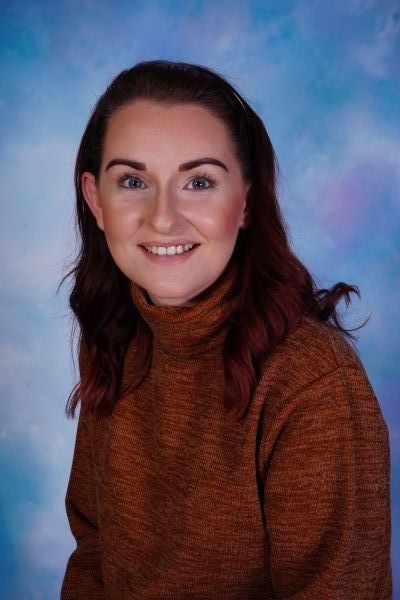 Mrs Crossan - Teaching Assistant