Year 5J
Welcome back Year 5J
Hello everyone, welcome back! I'm really looking forward to working with you and your child this year so let's make it a year to remember.
This year we have Mrs S Murray as our class TA and she will be supporting us on Monday, Tuesday and Friday, as well as covering my PPA on Monday and management time on Friday afternoon.
P.E. IMPORTANT NEWS
The PE coach will be working with 5J every Tuesday morning. The children are asked to come into school in their PE kit and remain in it all day. The children must also come into school in trainers every Wednesday for their teacher-led PE session.
Reading.
It is important that the children read as frequently as possible, at least three times per week but ideally five times. Reading diaries are checked daily and dojos are awarded each time a child reads. A parent/carers signature is needed for this. Wherever possible, please ask your child questions about the text to check and encourage understanding of the text, especially the meaning of new words. This year we will be using Bug Club and books from our reading scheme. Children are tested regularly to identify the correct reading band. Bug Club logins are in the back of their reading diaries.
Times Tables
TTRockstar should be accessed as often as possible so the children can quickly recall all the facts. Fluency in times tables is so important as it helps in many areas of mathematics. The children have their TTRockstar logins at the back of their reading diaries. So please encourage your child to practise these.
Spellings
Spellings are set using Spelling Frame. Children will be expected to apply correct spelling rules in their independent writing. The children's logins are stuck at the back of their reading diaries.
History/Geography
We alternate between History and Geography each half term. Our first History topic is Greeks: Gods and Mortals – A study of Greek life and achievements and their influence on the western world.
Handwriting
Children can earn a pen licence once they have demonstrated consistently excellent joined up handwriting.
Homework
Read as often as you can and practice your times tables regularly.
Homework will be set as and when needed, but this will be in line with our homework policy.
After school activities
I encourage all children to attend as many clubs both in and out of school to enrich and extend their learning, when it is safe to do so.
Class Dojo
Class Dojo are used to reward the children in their fantastic work and achievements. This is also our home school learning platform, so if you want to contact me then please do so via the Class Dojo system.
Many thanks for your support everyone.
Mrs Linda Jones
If you have any questions about the upcoming year, feel free to message me on Class Dojo's.
My email address is ljones@wesleymps.com
Staff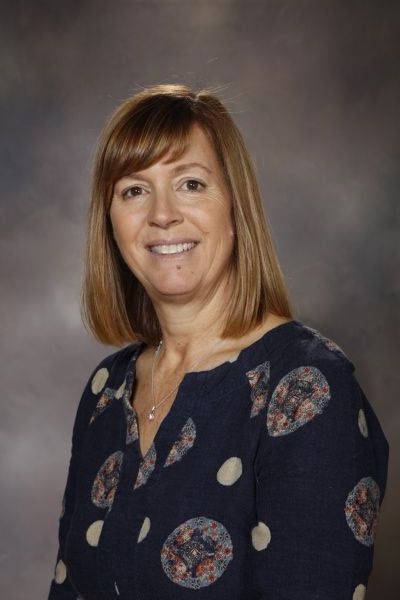 Mrs Jones Year 5 Teacher
Mrs Murray - HLTA