Year 2
Welcome to Year 2 :)
I am your class teacher Miss Kirkpatrick and our class teaching assistant is Mrs Whittaker. We will keep you updated on our topics on this page and add any key information for our class. I always try to make myself available at the door in the mornings and after school, but if you don't get the chance to catch me please do not hesitate to email me. My email is rkirkpatrick@wesleymps.com.
Important information this year
Phonics and spellings- each Friday the children will have an assessment on the learnt phonemes and high frequency words from the week. This will be marked out of 10 and sent home for you to keep. A record of the spelling test score will be kept in school to help with assessment of phonics.
Reading books- reading assessments will be done half termly to ensure that your child is on the suitable reading band for them. Reading books will be changed/checked every Monday, Wednesday and Friday. Please read with your child as often as possible, even if it is a few pages. Please sign your child's reading diary when they have read and so they can receive their 2 dojos for reading. A record of how often children are reading at home is also kept in school. Furthermore, in your child's reading diary I have attached a bug club log in and a teach your monster to read log in which are both interactive and will help to develop your child's phonic skills and comprehension skills.
Homework- As you are aware homework is optional at Wesley Methodist Primary; However it is very beneficial for the children to do the homework and is an indicator to you of what the children have been or will be learning in school. Homework will be sent home on a Thursday, please try to return homework on a Tuesday when 3 dojos will be given and the homework will be marked. I have sent pink homework books home with all of the children who's parents requested homework following our welcome meeting. Please let me know if you require a homework book.
PE
This half term, the children will be doing PE on Tuesdays and Wednesdays. Please ensure your child has their PE kit in school and that all items are clearly labelled. Please continue to encourage children to practise getting dressed at home to help them get changed quickly in school. PE kits are to be kept at school all through the half term. No jewellery is to be worn on PE days. If stud earrings have to be kept in, please can you send in plasters for your child to cover their ears.
cover their ears.
'Good to be Green' and 'Class Dojos'
We will be continuing to use the 'Good to be Green' positive behaviour system in the classroom. In addition to this, children will receive 'dojo points' for hard work, good behaviour, good manners etc and every time they receive 50 dojos they will get a special in class reward such as: dinner in class, sit on the teachers chair and choose a treat from the treat box. If you have not done so already please connect to our class dojo page where you can follow the amount of dojos your child is receiving and receive pictures of work or activities they have done in class.
Forest School
Children will receive some time taking part in Forest School activities every third Thursday beginning 3rd October. Children will always be outside, please ensure they have appropriate clothing for any weather as they will experience all seasons in these sessions.
I really look forward to working with you and your children this year :)
Miss Kirkpatrick
Staff
Miss Kirkpatrick - Year 2 Teacher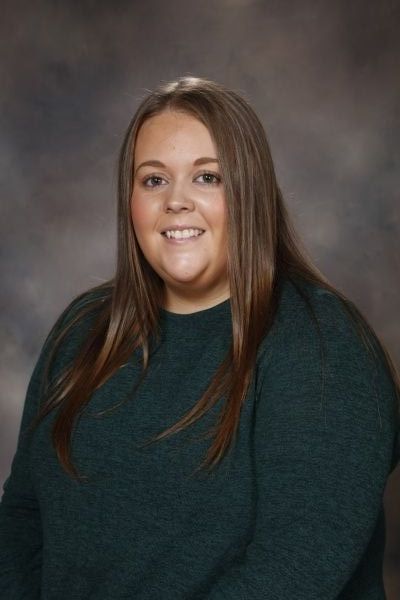 Miss Kyle - Teaching Assistant