Year 1/2
Welcome to Year 1/2T!
We are a mixed Year 1 and Year 2 class! I am your child's teacher. Mrs Crompton will be our TA this year working Monday to Wednesday and Miss Kyle will be working with us Thursday and Friday mornings. Mrs Crompton will cover PPA on a Wednesday afternoon.
On our class page, you will find some important information about our class, key dates and events and updates about our class adventures together through the year.
If you have any questions, queries or concerns and you can't speak to me personally, please feel free to email myself Monday-Friday.
Mrs Thomasson's email address is sthomasson@wesleymps.com
Reading Books
Reading books will be sent out online using BugClub. I will be checking at the end of the week and dojos will be given to children that have read each time. I ask that children read a small amount (just a few pages is fine) each night. Children will be able to select the book they would like to read from a large range of books. They will be given 5 dojos every time they read.
Bug Club logins will be sent home at the start of the year. This can be accessed at home alongside the app Teach Your Monster to Read which helps to practise their phonics skills.
Phonics and Spellings
Each week a spelling test will be set, which is linked to the phonics or spelling rule for that week. The phonics focus will be different for year one and two. It would be beneficial for children to practise the phonic focus and to practise reading and writing these words. Spelling tests will be on a Friday and it will be sent home that day so you can see how your child has done.
PE
The children will be doing PE on Mondays and Tuesdays. Mondays children will need to come into school with trainers on with their school uniform on and then on a Tuesday full sportswear can be worn to school.
No jewellery is to be worn on PE days. If stud earrings have to be kept in, please can you send in plasters for your child to cover their ears.
'Good to be Green' and 'Class Dojos'
We will be continuing to use the 'Good to be Green' positive behaviour system in the classroom, children should aim to stay on a green card to receive 30 minutes Golden Time on a Friday plus other rewards. In addition to this children will receive 'dojo points' for hard work, good behaviour, good manners etc.
Forest School
In Year 1 and Year 2, children will receive some time taking part in Forest School activities. Children will always be outside and will need to ensure they have appropriate clothing for any weather. A text will be sent out as a reminder. Forest school has been postponed at the minute.
Staff
Mrs Thomasson - Y1/2 Class Teacher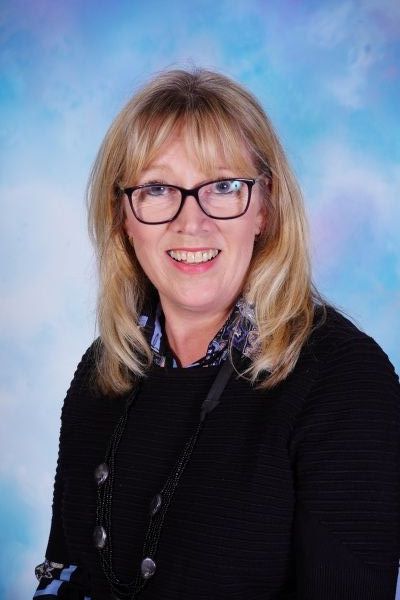 Mrs Crompton - Teaching Assistant